Project: Spirits in the Trees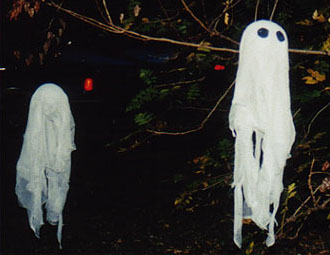 On a cold Autumn's eve, when pumpkins flicker and black cats prowl, the spirits abandon their mouldering graves and rise to haunt the world of the living.
While some ghosts seek to terrify those who survive them, others simply wish to float above the gravedirt, drifting among the tree branches, in remembrance of days long ago when they walked the lonely forest roads as a living, breathing mortal.
You can attract these winsome spirits to your own trees by following the ritual below, to give them a place to call home before they return to their eternal bowers.
As always, lest you wind up haunting someone's tree, wear proper protective gear when making a project.
Materials
To make these spirits, you will need:
round white balloons
an empty milk carton (cardboard type)
large squares of gauze
scissors
liquid starch
a large, permanent black magic marker
fishing line
a tree
These ghosts did not take long to make, and are very cheap. They are a bit flimsy, so care should be taken to store them between uses, but otherwise, they stand up fairly well.
Making the ghosts
First, blow up a balloon for every ghost you want to make. Be sure to use white balloons, or the gauze might pick up the color of the balloon. Depending on how large you want your ghosts to be, you may not want to inflate them completely - these will define the shape and size of the head.
Cut a long length of fishing line, about four or five feet, and tape the center of it to the top of the balloon.
Then, poke two holes in the center of a sheet of gauze, and thread each end of the fishing line through them. Pull the gauze down the line so it falls across the balloon, and tie the fishing line off at the ends to form a tall loop. You now have a ghostly shape - the gauze hangs down over the balloon.
If you want a more opaque ghost, add another sheet of gauze using a similar method.
Tatter the parts of the gauze that hang down with some scissors.
Soak the gauze in liquid starch, and hang the ghost up in a convenient place. Be sure to put down newspapers to catch the drippage! Let it dry, and the form of the ghost will stiffen.
Use the magic marker to draw eyes onto the ghost.
Pop the balloon and remove the scraps. You're left with an ephemeral sheet of gauze that keeps the form of a ghost! Use the loop of fishing line to hang your ghosts from the trees.